When it comes to

Car GPS Tracking Solution

, no one knows it better than

Close-Guard Technology

.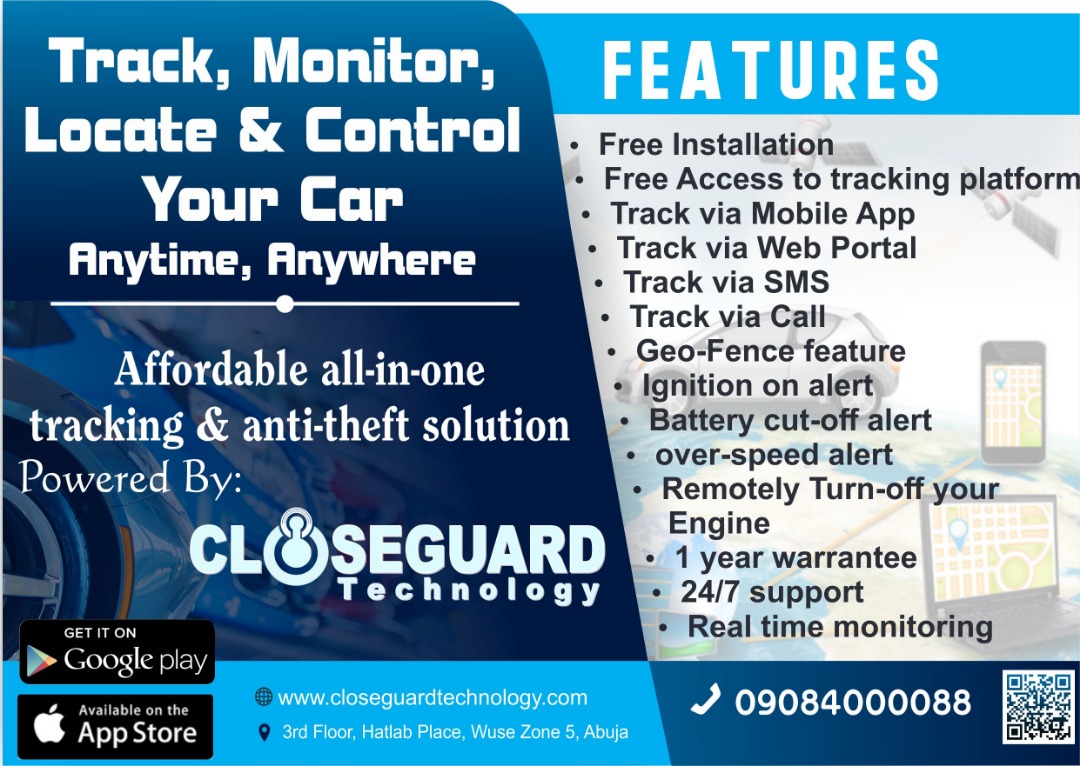 From real-time location to tracking, monitoring and remote control, our innovative yet affordable car tracking solution offers set of tools to enable you take total control of all your vehicles.
Our vehicle tracking solution offer you Real-time location, Vehicle status notification, Location history, Remote Panic, Remote Demobilization and Geo-Fencing features, amongst others.
Our GPS car trackers can be installed on Cars, Bikes, Trucks, Trains, Flights and just about anything that runs on engine.
We offer you multiple tracking platforms for convenience, including SMS, Web Portal and Mobile App.
We also offer a 24/7 call-to-located and SOS services in the case of emergency
Our GPS Car Tracking features include;
GSM/GPS/GPRS support
Free Installation
Free SIM Card
Free 90 days Free Standard Subscription
Free Access to All Our Tracking Apps and Platforms
24/7 Real-time Location Report
Minute-to-minute Detailed Location Log
Geo-Fence Feature
Voice Monitoring Function
Car Battery Disconnect Notification
Ignition-on Notification
Feature to Remotely Turn-off Car Engine
Over Speed Notification
Fuel Consumption Monitor
Share Access to Track Your Vehicles with Others
Scheduled Auto Mobilize/Demobilize
Auto Demobilize Vehicle on Fence-Out
Track All Your Vehicles in a Single View
GPS Tracking API
Track via SMS, WhatsApp, Mobile App or Web Portal
Up-to 18 hours backup battery life
24/7 support
Our GPS Tracker Demo
Take a look at how our GPS car tracking device works with a real-life demonstration. You can also use the login details on any of our mobile app
Link: Download Android App
Username: tester@closeguardtechnology.com
Password: 12345678


GPS Car Tracking FAQs
Q: How Does Your GPS Tracker Works?
A: Our GPS Tracker is made up of GPS, GSM & GPRS components. The GPS component get the accurate position of the device (Longitude and Latitude), the GSM component is responsible for sending location information to you via SMS or Phone Call, as well as receiving SMS commands from you, while the GPRS is responsible for sending real-time location data to our tracking server, which makes it possible to track and control the device using our platforms and mobile apps.
Q: What Makes Close-Guard GPS Tracker Better Thank Others?
A: Our GPS Tracking devices are very compact in design, has in built long-lasting backup battery and operates on an intelligent Firmware. It also has far much more features when compared with other similar products in the market.
Q: How Do I Get a Close-Guard GPS Tracker?
A: Close Guard GPS tracker can be purchased directly from any Close-Guard location, Online Shop, Jumia.com, Konga and any Close-Guard Partner around you.
Q: What Do I Get When I Buy a Close-Guard GPS Tracker?
A: Every Close-Guard Tracker comes with a Free special Data SIM, Installation Kit, 12 Months Free subscription and Free Installation (in many cases)
Q: How Do I Track My Vehicle or Device?
A: You can track your Close-Guard GPS device using SMS, Phone Call, WhatsApp, Mobile App, Web Portal and API
Q: Why Do I Need To Pay For Yearly or Monthly Subscription?
A: A GPS Tracking device needs Airtime to send you SMS as well as Data to connect your device to the internet for real-time tracking and control. When you subscribe to our tracking plan, we tae care of both the Internet and Airtime your GPS Tracer needs to function. Access to our Mobile Apps and Platforms are completely FREE
Q: Can I Use Close-Guard Trackers Without Paying for Monthly/Yearly Subscription?
A: Yes... Absolutely Yes. You can still track your device location and perform other basic operations and command on your device using SMS. You only need to have airtime on the device. You can also add data directly to your device and still enjoy real-time tracking experience
Q: What Happens When My Subscription Ends?
A: When your subscription ends, you will no longer be able to track or control your device from our mobile apps, website or other real-time tracking platform. However, you are still able to use the SMS and Phone Call tracking feature
Q: How Do I Renew My Subscription?
A: To renew your subscription at anytime, simply login to our Self-Care Portal then go to the My Subscription menu to renew or add a subscription on your device.
Q: Will Close-Guard GPS Tracker Interfere With Normal Operation of My Vehicle?
A: Not at all. The advanced technology and expertise behind our design made sure of that. Even if something ever goes wrong, you can simply hit the Reset button from our app or platform to have your device back to factory condition.
Q: How About Product Warrantee?
A: We give 12 months warrantee on all our GPS device, provided the device as installed by a Close-Guard Accredited Installer
Q: How About My Privacy?
A: We have a well defined privacy policy designed to protect all our users. You can read all about it Here
Q: How About Support?
A: We take issue of after sales support very seriously. We give life-time support on all our products.